Umbro have repeatedly hit the football design headlines this year with the new England kit release and their Tailored By approach. Their Senior Designer David Blanch very kindly agreed to answer some of Jay's questions at designfootball.com regarding the brand's new image.

David, thank you for talking to us. The England kit launch is usually a high-profile event but this year surpassed all others in marketing and publicity and, more importantly, in the direction change of the kit itself. How long had the kit been in development and when was the new understated and tailored approach decided upon?
We decided to go with a clean, bold kit very early in the process. This was born out of observing the evolution of football kits over the last ten years and concluding they where becoming unnecessarily cluttered. We elected to take stock, pause, and think about what ultimately an England kit is there to deliver.
So we started again with a blank sheet of paper and proceeded to rethink and reinvigorate the entire creative process. Fabio Capello and The FA were highly influential in the new direction, with Capello in particular awe-inspiring as he set out his vision of a strip that embodied what the England football team is about and what would give the team a psychological advantage.
We had seen how Capello was bringing a new sense of team pride and smartness, with players even changing into suits on the bench after being substituted. This link between the confidence of smartly dressed professionals stepping off the team bus and transcending this aura on the pitch was inspiration to our tailored approach.
Tailors had always created football kits prior to sportswear companies even existing and, of course, the Humphreys Brothers who formed Umbro were trained by tailors themselves, so we looked at how tailoring could be mixed with modern technology and positively inform a new design principle. Rather than traditionally draw some designs we physically 'built' the kit from the inside out, in a similar way to how a tailor would construct a suit around a tailors dummy.

So the less well-received "leaked" England shirt was never being considered as the actual final design?

Honestly, I have no idea where that particular shirt came from. Whenever new shirts are due to be released we see speculative designs appearing on the internet and that was one of many. The Tailored By Umbro shirt had long been in development and it was always going to be the next England shirt.
However, I read a lot of the comments on that leak and it was interesting to find that people expressed frustration with the design direction based on what they were seeing. The overall impression we got was that people felt that kits were "trying too hard". This obviously encouraged us as we had, in fact, already started to develop our football tailoring concept instead of proposing an over complicated kit-design that the leaked picture implied.
Designers at Umbro often visit FootballShirtCulture.com and recognise that many of the comments on kit designs are valid. If there's opinion we can take on board we will do our best to do so.
The actual New England shirt is, in fact, award-winning. Is its minimalist style - selectively retrogressive perhaps - what you see as defining the late naughties when it comes to kit design?

Even though the kits might look relatively simple on first appearance, I can assure you they are far from it.

It's also important to mention that we have not looked to produce a retro kit. Retro often suggests that you look back and stay there. But what we have done is look at the whole of football's heritage, learned from it and allowed it to inform good design principles. That, combined with today's innovation and technology has led us to create a new generation of kit design.
I believe we are seeing a new era in kit design, out with the superfluous flash and in with performance style. The most forward-thinking manufacturers may begin to realise that the most successful designs will use style rather than a superhero approach.


And you've also developed the crest, removing the unpopular "ENGLAND" from above. What brought on this about-face?

The removal of the "ENGLAND" legend above the crest was actually The FA's decision. We took the opportunity of a New England crest to develop a whole new level of refinement with new depth and craftsmanship being applied.

We are aware of how important the crest is to fans and players alike so we increased definition and detail leaving us with an altogether more substantial feature of the shirt. Arguably the club crest is the single most important part of a kit. This high-quality craftsmanship combined with performance as a whole really defines the kind of shirt we wanted to create.


When we see how certain other manufacturers, mentioning no names, create strips so modern and technological that the finished product can resemble something Robocop would play in, how has Umbro managed to ensure the less-visible performance technology is up to scratch?

Focusing on performance, refinement and detailed craftsmanship allowed us to remove the unnecessary parts and be less extreme and less complex with kit designs. We've intentionally pared down and focused on every seam – on every component. All the details are still there but they are less overt. Our aim was to keep the garment looking pure, confident and honest, whilst introducing new technology without compromising style.


An example of this appears to be several strategically-placed "pin holes". Did testing find this produced results for body temperature regulation akin to that of the meshing we find on some shirts?

Most certainly. We worked very closely with Progressive Sports at the University of Loughborough, on testing the performance of the kit. Body temperature balance "themoregulation" is one of the most important requirements for the players and subsequently modern day football kits.

We focused on 360° ventilation and we achieved this through the strategic placement of nine perforations, each representing a rose from the crest. This zonal ventilation method achieved the desired results whilst remaining true to our creative strategy.


Although many are desperate to see England play in the navy shorts and alternative socks, it seems the first choice strip is all white. Is this as the 2010 World Cup in South Africa will be particularly hot and sunny or will there be a new kit next year?

Firstly, I can confirm that it definitely will be the kit worn in South Africa, assuming England qualifies.

England always have change shorts and socks for their home strip due to Fifa kit regulations. The only difference on this occasion is that it was decided to make the white shorts and socks the first choice for, again, reasons of visual impact and performance style.
A pure and confident all white kit was chosen but this colour combination has featured in some significant England matches in the past and features prominently in England's footballing history. That's not to say the navy change shorts won't feature for some matches.


The £50 (RRP) price tag for the shirt raised eyebrows. Why led to the price being comparatively high, especially during a recession?

When we began the design process we always envisioned the kit worn at South Africa 2010 and, accordingly, set out to create the best football kit the game has ever seen.

Our feeling is that with all the levels of research, attention to detail and sports tailoring that went into its development, people will see true value for money in the shirt.


Obviously the key point of this shirt is that it is tailored. But how do you reach a compromise between the cut that suits an athlete wearing the kit on the Wembley pitch and a fan who, let's say, is not as svelte as he once was?

We spent time working with tailors and developed a new fit that moves better with the body. What we've achieved, with the tailors' influence, is actually make the kit fit slightly closer to the body – especially under the arm, over the shoulder and at the waist.

It's not only the shirt that benefits from Umbro's football tailoring, the shorts have also been re-fitted to slim down the silhouette and improve movement. You may have noticed some players roll the top of their shorts over, normally this is to improve movement. On the new shorts we have lifted the inner rise so it will fit better and improve range of motion.

Each player in both the men's and women's England teams had bespoke fittings of the kit so what they wore on the pitch was perfectly suited to their shape and needs. This new football tailored fit isn't just for the players either, rather than sell kits in small, medium, large etc, Umbro are sizing the shirts by chest sizes i.e. 38", 40", 42" etc. for retail because it's important that everyone can experience the advantage of a tailored fit. What you'll notice is that it fits you slightly differently around the body.

The new fit isn't over slim, either. This isn't a spray-on, super-tight shirt by any means. I don't want people to think that because it is tailored it's going to feel tight. It's not; it's just shaped around your body.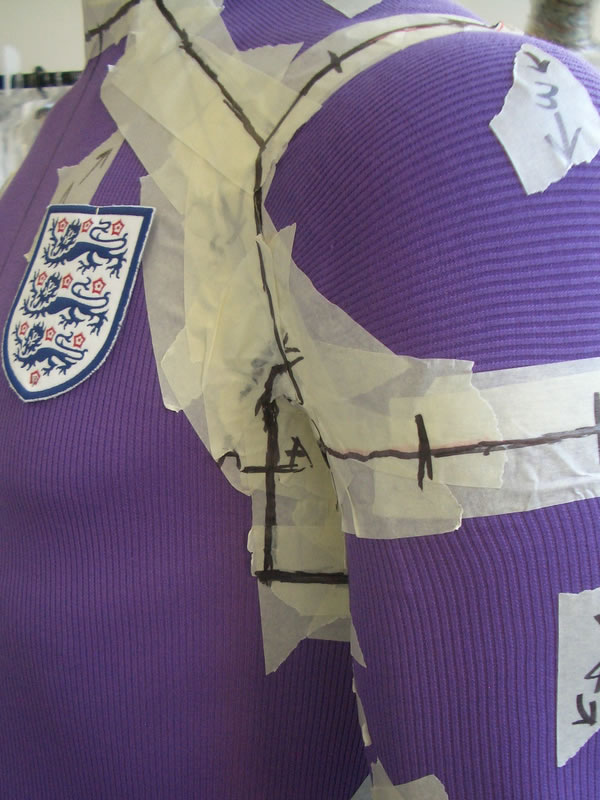 Your new client, Manchester City, also have a new Tailored By kit. In fact, all of their new kits are traditionally-styled. Did you feel you needed to make an immediate impact with designs that would reflect their famous history and status?


When we spoke to Manchester City they were keen to make a bold statement of intent on the Premiership in every respect. We have seen that in their style of play and signings this season and this fits with the kind of kits we have produced for them.

City were keen not to follow the crowd and, for example with their new away kit, we created a strong black strip that would give them confidence away from home.

Again, the home and third kits are not simply retro but rather take inspiration from high watermarks in the club's history. Manchester has always influenced style and the club reflects this too. As such their kits were created with this in mind and through paying attention to what the fans believed to be important in a City kit we've blended culture, style and performance.

In the case of the third strip, we were very fortunate that the sponsor Etihad Airways was open to us moving their name to not take away from the impact of the sash. When they saw the finished result they were actually thrilled, as were most fans. As an example, Noel Gallagher expressed his approval on his blog.
How does having the might of Nike as the parent company help the design process?


With Nike coming in, it has actually allowed Umbro to become more focused than it has ever been before – especially in the area of fabric technology. Nike appreciates Umbro's positive influence on global football and their input has provided us with additional resource to put behind even better football kits. We've really upped our game and the Nike support has helped us do that

.

Do you pool talents when it comes to designers as well?


Other than on the technological side, all the designs are the work of Umbro's creatives. Umbro has a large group of extremely talented individuals and combining these talents with that of the likes of Aitor Throup and Saville Row's Charlie Allen we produced designs that we're very proud of. Nike have also expressed how happy they are with our football tailoring principle.
The marketing has also been fascinating. The blog has entertained me greatly - seeing the hugely imaginative Manchester City posters, thoughtful t-shirt tributes to Fabio Capello and, of course, the enormous Tailored By England campaign (personal highs: The Compton Cricket Club (!) in England shirts, the NME pullout of non-English bands that had been "tailored" by English music and the England strip appearing on Pro-Evolution Soccer in double-quick time). Nike and Umbro seem to have really led the way this summer in this respect so has the former's presence enhanced the strength and diversity of the publicity machine?


We approached the marketing campaigns in much the same way as we approached creating the kits: with a blank sheet of paper but with the goal to redefine replica and make the kit an icon of culture. Whilst Nike supported us, it was the team in Cheadle who came up with the diverse and exciting ideas in promoting the new kits.
Now, this season's Umbro kits have been better-received on the likes of FootballShirtCulture.com than the new releases of many a previous year. Even aside from England and City, non-Tailored By shirts for the likes of West Ham and Rangers have fared well, seemingly due to the removal of clutter and a classier approach. Was there a conscious decision to leave the graphics and features behind?

The Tailored by Umbro principle resonates throughout the brand so the approach on all of our new kits was to instill the ethos of Umbro - a British brand using British ingenuity - and integrate this with different attitudes for different clubs, both on the pitch and around the stadium.

We've even considered the original innovators 'The Humphrey Brothers' and wonder what they would create if they were involved in designing a modern day kit with all the new technological and performance advancements at our disposal. Such thinking is demonstrated in the kits that have been released this season, hopefully with a positive influence on football.


Accordingly, the stock of Umbro's creative power rising coincides nicely with the Manchester Design Studio's enhanced profile. What's the purpose of the studio?

Central Manchester was the original home of the textile industry and with our new Design Studio we have established a creative hub for designers to go for inspiration and a change of outlook. Divided into sections, creative teams can go there to integrate with each other, build product and allow for ideas to emerge. One thing we are doing is spending less time using CAD and more time actually realising our ideas in 3D.

In the future, in addition to the office and events areas there will be new areas open to the public.


That sounds very interesting. I look forward to seeing every new development over the coming months and plenty of great new designs from you in the future. Thank you for taking time out to speak to us.

Thanks to David for talking to us and also to Tom from the Umbro blog for arranging our interview. We highly recommend you take a look as it is certainly one of my favorite blogs at the minute.

Finally, for my review of the Tailored By England home shirt please Click Here.
Jay